Update November 2019
Ratesetter have announced that they will drop the returns for the plus and max versions to 3.5% and 4.0% respectfully on the 2nd of December (I note that they don't mention this on their front page). As a result, I doubt I will continue to invest with them myself and I intend to transfer my ISA after my existing fixed term investment is up.
---
Ratesetter1 have recently come out with three new products, replacing their "rolling market" product. The new products will take effect from the 3rd of October.
The rolling market product has been renamed "Access" and effectively remains unchanged, though it looks like they are trying to stabilise the returns at 3%, rather than letting the return bounce around depending on the market that day. Ratesetter can then adjust the rate of return themselves monthly, rather than letting the rate fluctuate with the market.
Previously, if you wanted to put your money away longer in return for better returns, you had to use the 1 year or 5 year markets. Getting your money back at any other time would be difficult and incurred a penalty. If you wanted to put your money away for 11 months, you had to accept the rolling market rate.
The new products "plus" and "max" are more flexible. They penalise you 30 days or 90 days interested when you take your money out. In return you get a higher rate of return, initially set to 4% and 5%.
| Product | Access | Plus | Max |
| --- | --- | --- | --- |
| Initial interest rate | 3% | 4% | 5% |
| Withdrawal penalty | 0 days | 30 days | 90 days |
I was curious what the relative paybacks would be. How long do you have to put your money away for before plus or max become the better options? So I threw a quick graph together: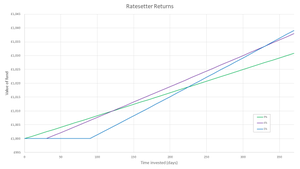 Looking at the graph, it shows that for periods less than 3 months, the access account is best. For periods between 3 and 11 months, the plus account wins, and anything longer, the max account is best and only gets better the longer the money is invested.
It is also worth noting the downside in each case. If you were to put £1000 into the max account and take it out 3 months later, you would have lost out on less than £8. That is the maximum benefit you can get from the access account. Any length longer than that and the loss will be less, until after the 11 month mark.
This is an affiliate link. If you were to sign up to their service through this link, I may receive a referral bonus. ↩
Go Top