Today was the last day of EMF 2018. The events and parties will continue on late into tonight and people are welcome to camp the last night but there will be fed facilities tomorrow morning.
We decided to leave early, packed up today and are spending the night in a hotel 30 minutes up the road. One of the reasons was that we could pack up and strike the tent while our oldest child was in the free crèche. And that brings me into what I want to finish up with, the extras and ethos.
As already said, free childcare is provided to allow parents to attend talks and workshops. There is an arcade of old video games, free to play and open 24 hours a day. Every attendee receive a "badge", a small piece of electronics that can display your name and much more (this year's are able to make phone calls). The organisers are entirely voluntary and all pay for their own tickets. Attendees are requested to volunteer their time to help with the talks (sound, video or compere) , the info desk, the youth workshops or help in the kitchen that provides free meals to anyone who has volunteered. This helps keep the costs down conditioning what it is you are getting.
The festival is very relaxed and friendly. Curiosity is a good thing, people want to help and share, and are just generally nice.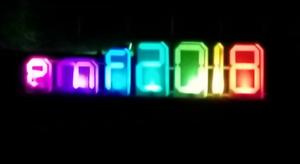 Go Top